In line with Regulation 28 of the Pension Funds Act, pension funds are required to hold a minimum of 35% of their investments in Namibian assets with the maximum of 3.5% in unlisted investments.
Through this legislation, pension funds are encouraged to invest in the domestic market and so as to ensure that Namibian savings are utilized to stimulate development.
By way of responding to this call, GIPF approved an Investment Policy for Unlisted Investments in 2008. The overarching objective of this policy is therefore to make a meaningful contribution to the economy and development needs of communities by providing development capital to the non-listed sectors with high growth potential. These sectors include micro-financing, venture capital, development capital, buyout financing and property which falls out of the unlisted investment categories in terms of Regulation 29.
Within the spirit of this policy, the Fund has adopted a broad-based view to socio-economic development through private equity, a relatively new investment concept to Namibia which could enhance our ability to capture significant performance while leaping diversification benefits.
Given the risk associated with unlisted investments, the development of this policy took into consideration detailed studies of global best practices in this area. We believe that through this policy we able to innovate and create alternative asset class for investments of pension fund's assets. As is evident the GIPF Unlisted investment policy has recorded success in job creation, infrastructure development and general economic growth. The ripple effect our investments into this asset class is the multiplication of business entrepreneurs, an increase in the critical mass of sustainable businesses and stimulation of market activities.
Despite these remarkable benefits, we also believe that this policy allows us to better manage our investment risk through diversification of our asset portfolios. Surely, the risk of carrying all eggs in one basket is minimized when some assets are withheld from volatile listed markets.
We are very proud to be a pioneer of this concept in Namibia and we are of the view that the impact of our investments in this area would be robust and sustainable. It should also be noted that even though our unlisted investment objectives are developmental in nature, the protection and growth of our assets remains top priority.
Evolution of Alternative Investments 2015-2022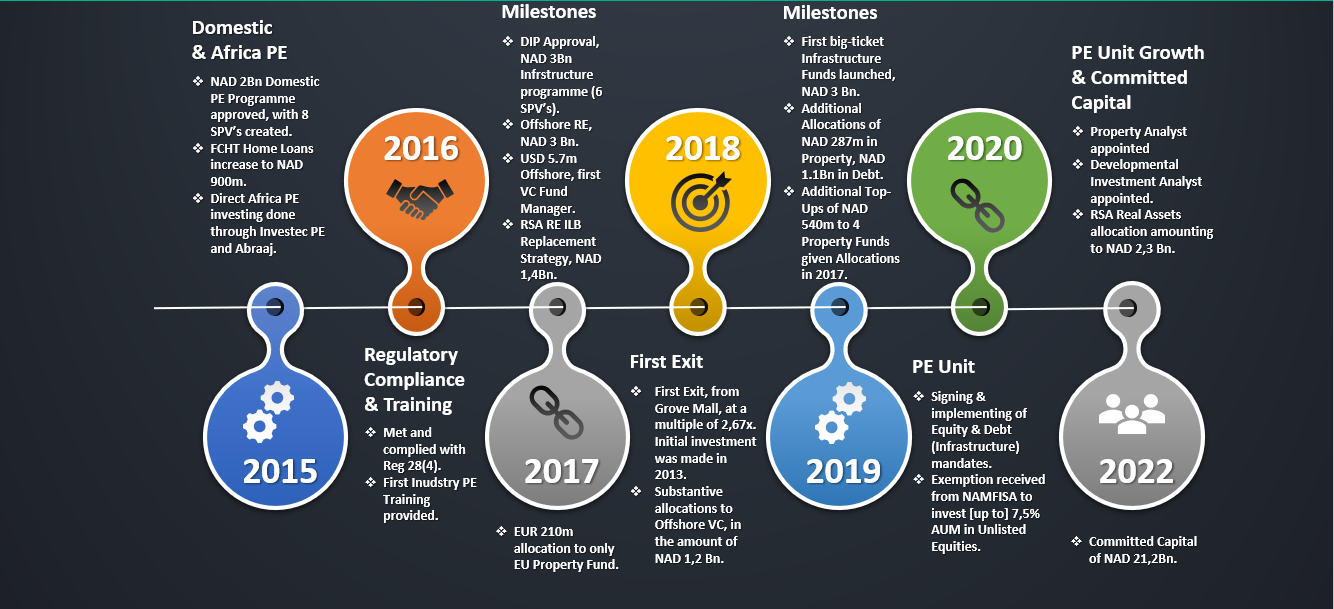 Evolution of Alternative Investments 1996-2014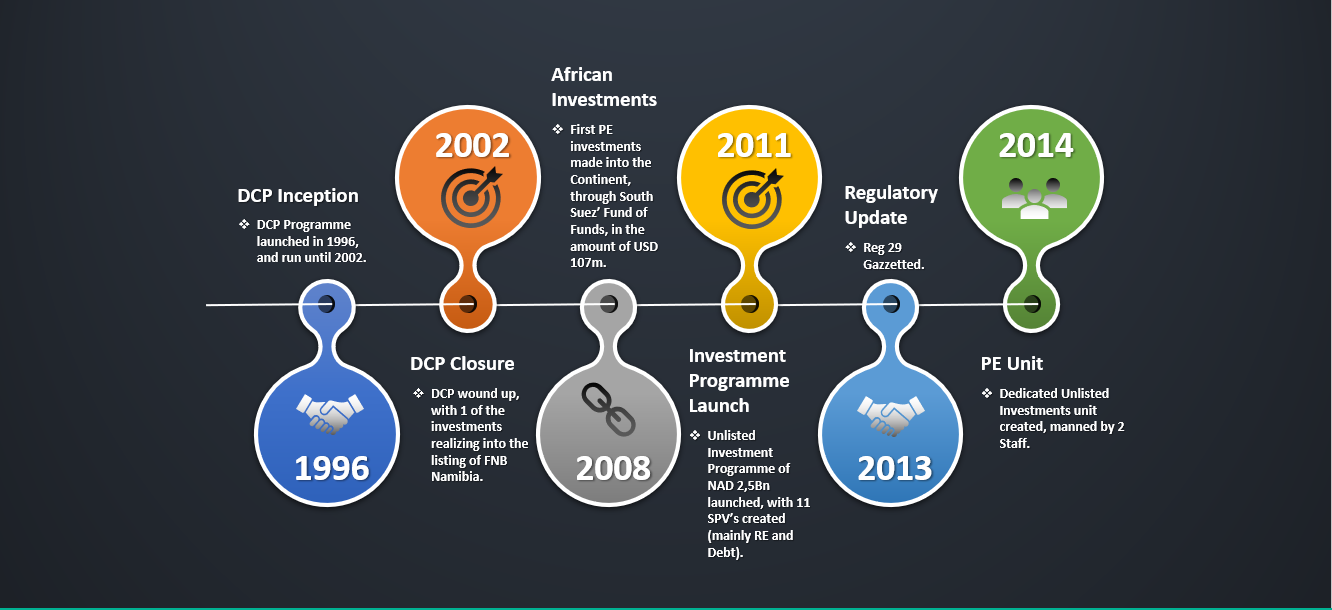 The operational framework is designed to minimise risk by making use of professionals with specialised expertise in particular investment mandates. In terms of this set up, individuals with projects requiring finance shall not approach the Fund directly, but approach these service providers (Fund Managers) who have been appointment by the Fund for this purpose.
Moreover, the funds under the unlisted investment portfolio are housed in legal vehicles called a Bewind Trusts. The disbursement of GIPF funds to projects is done via these trusts on the basis of a draw down principle rather than the total value allocated to the Trusts. Moreover any draw down could only be authorized after investment proposals have been thoroughly investigated and appraised. Some benefits associated with this arrangement are as follows:
The funds invested by the GIPF remain the property of the GIPF.
It allows for a tax look-through structure. All profits generated will be subject to tax, if applicable, in the hands of the investors, not the Trust. Other investors may also participate in the fund. This is to enable other pension funds, long-term insurers, foreign investors and, indeed, individuals to also participate. It is hoped that this will mobiles capital.
Very onerous governance principles.
The right of the GIPF to terminate a manager and appoint another in case of any diversion from mandates.
A number of Fund managers with specialties in areas of private equity, venture capital, debt and infrastructure financing have been appointed through public tender to participate as intermediaries and manage the allocated funds in line with GIPF objectives.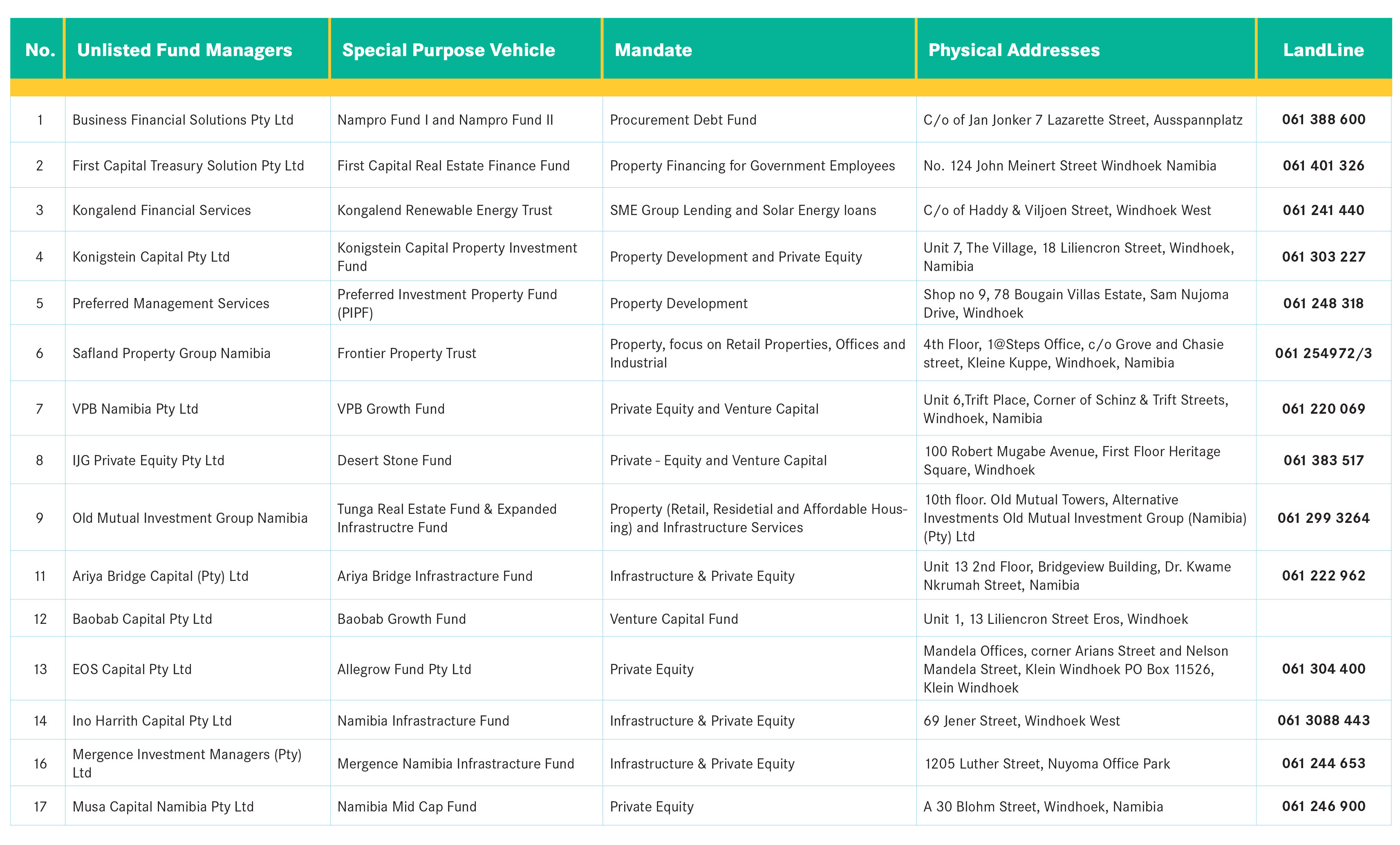 As a public institution, GIPF has a duty to keep stakeholders informed about all its dealings as required in terms of good governance principles. This media project aims at profiling our investment initiatives within the national economy through the provision of financial capital to bankable business opportunities. We are obliged to tell this story because our stakeholders demand nothing less than full accountability and disclosure on how the Fund's assets are invested.
Our communication strategy in this regard is geared toward creating public awareness for the UIP and development projects funded through this initiative. While the overarching objective of the UIP remains to grow the Fund's assets and manage risk through diversification strategies, the positive effect of this policy on the local growth is substantial. Through this platform we shall provide an assessment of this positive impact to a variety of communities throughout the country. Additionally, this information campaign provides a practical meaning to the concept of mobilising domestic savings for national economic growth and development as advocated through Regulation 28 of the Pension Funds Act. The idea is to provide stimulus to the economy utilising domestic savings while reducing the impact of capital flight. This showcasing and branding of our UIP funded projects would assist to demystify the myth that our country has limited capacity for economic activities. We believe that our intervention through the UIP is noble and noteworthy. We are inviting you to watch this space for more.
Unlisted Investment: Unlisted Investment are investments made in a company or financial instrument that is not listed on a registered Stock Exchange.
Venture Capital: This is a source of funding for a start-up company which is either in the form of debt or equity. This is usually the second source of funding after the initial investment made by the promoters or founders of a company.
Private Equity: This is an investment into a company through taking up a portion of equity in a company that is not listed on a registered stock exchange.
Bewind Trust: This is a trust registered by the Master of the High Court in terms of the Trust Monies Protection Act number 34 of 1934.
Draw Down: The drawdown is a process that is followed and a submission made, whereby the Bewind Trust makes a capital call on the commitment made by an investor.